---
---
The great music of the Big Band Swing-Era
As most people know, the music of the big band swing-era was "swing" music.  The exact definition of "Swing" is tough to define because of its subjective nature.  Swing is best described as the particular way a piece of music is played that gives it a certain vitality and energy.
---
Without getting too technical, in Swing music the musicians play (or sing) some of the notes late, and then catch up in the next beat or two.  This was referred to as "swinging the beat", and hence the name was probably born.  Swing also has a rhythm-driven quality that emphasizes subdivisions of the beat, which often adds a horizontal feel and type of "pulse" to the music.
---
For the classic era of Swing (about 1935-1949), the music was a form of jazz that normally used arrangements and was rehearsed, but still allowed room for interpretation and improvisation.  Of course, it was the Big Bands of the Swing Era that made swing music famous and popular all over the world.  But smaller type combos, such as the jump blues bands of the late 1940's and early 50's, had a big part in the overall contribution of what is considered swing music.
The Swing-Era Big Band genre of music
---
---
Most people have heard of the big band sound, a music style primarily from the 1930's and 1940's. Unfortunately, many people (to include some swing dancers) associate the Big Band sound exclusively with the commercially oriented music of Glenn Miller, the "champagne" music of Lawrence Welk and the New Year's Eve broadcasts of Guy Lombardo.
Big Band is a style of jazz music that normally refers to a group of about 10 or more musicians.  Although the number may vary, a traditional Big Band orchestra consists of about 15 musicians:  4 saxophones, 4 trumpets, 4 trombones, and a 3 piece rhythm section (normally consisting of piano, drums, and an upright bass).  This is in addition to the band leader, who also normally plays an instrument, i.e. the clarinet (Benny Goodman), the piano (Duke Ellington, Count Basie), the trumpet (Harry James), etc., and any vocalists.
---
Musically, Big Band was the fusion of American jazz, ragtime and Charleston styles of music (similar in development to swing dancing).  Big Band is usually identified in jazz history to the 1930's and 1940's classic era of swing.  During that time, most of the jazz groups were Big Bands and they played a robust, invigorating style of swing. Swing was dance music, yet it offered individual musicians a chance to improvise musically fresh, technically complex solos.
It may be technically incorrect to call all Big Bands "swing", just like all "swing" isn't performed by Big Bands.  But the big bands led by Jimmie Lunceford, Benny Goodman, Chick Webb, Duke Ellington, Erskine Hawkins, Earl Hines, Harry James, Lucky Millinder, Count Basie, Glenn Miller, Tommy Dorsey, Glen Gray, etc. were extraordinarily popular in the 1930's and 40's and the terms have become interchangeable in the public eye.  The two are forever tied together, given that they matured simultaneously.
---
It is important to keep in mind that there were definite distinctions between Big Bands in the 1930's and 40's.  Some bands displayed hard-driving rhythmic qualities and solo improvisations, while other bands conveyed a less pronounced swing feeling.  The former bands were often called "swing bands" or "hot bands" (e.g. Jimmie Lunceford, Count Basie, Duke Ellington, Benny Goodman, Chick Webb); while the latter were called "sweet bands" (e.g. Glenn Miller, Guy Lombardo).
It should not be overlooked the many disadvantages that African-American big bands had as compared to white bands, especially in the 1930's and 40's, because of racism. African-American bands were unable to obtain lucrative bookings at big hotels for long residencies or regular appearances on radio shows.  They normally toured constantly, in a series of one night stands.  African-American bands were often not as commercially marketed nationally by record producers and radio stations, as were lesser performing white bands.  White bands would often cover songs by African-American bands and achieve greater commercial record sales and exposure, i.e. Glenn Miller's cover of Edgar Hayes' "In the Mood" and Erskine Hawkins' "Tuxedo Junction".  (To be fair, it should be noted that all bands in the big band era covered each other's songs to some degree.)
---
The golden age of the Big Band era, from about 1935-1949, was unique in that it was the music listened to by all generations in the 1930's and 40's, young and old alike.  Big Band swing was the popular and dominate music of the era, not only for radio, but the movies, in nightclubs, at high school and college dances and parties, and at the local ballroom.  In the early 1940's, it is estimated that there were over 400 bands (some where known as "regional" or "territory" bands), criss-crossing the country, playing night after night of one night stands, looking for that elusive "break".
It was the hundreds of ballrooms that stretched from coast to coast that gave the big bands their most consistent and hospitable venues.  Unfortunately, many of these ballrooms were torn down (especially in the 1960's as a result of "urban renewal") to make room for retail and housing developments.  Many ballrooms with historical significance have survived, such as the Surf Ballroom in Clear Lake, Iowa, famous as the last concert location for Buddy Holly, Richie Valens and J.P. Richardson (The Big Bopper) before dying in a plane crash on February 3, 1959.
---
Many ballrooms in and near the bigger cities could accommodate thousands of dancers.  These included ballrooms such as the Savoy and Roseland Ballrooms in New York City; Glen Island Casino Ballroom, New Rochelle, NJ; the Glen Echo Park Spanish Ballroom in Bethesda, MD; the Palladium and Palomar Ballrooms in Los Angeles, CA; the Rendezvous Ballroom in Orange County, CA; and the Casino Ballroom on Catalina Island, CA.
More common were the many ballrooms and dance halls found in medium and smaller cities and towns that might occasionally host one of the "famous" big bands but normally booked one of the hundreds of less famous regional or territory bands.  For the central Kentucky and surrounding areas, such establishments included the Joyland Ballroom in Lexington, KY; Casa Madrid Ballroom, Louisville, KY; High Bridge Park Pavilion, Wilmore, KY; the Music Hall Ballroom and Moonlight Gardens at Coney Island in Cincinnati, OH (note that the present Moonlight Gardens was once the walled ballroom, with the front facade much in its original condition; and the  Moonlight Pavilion, where Big Band dances now take place, was once part of food service buildings); and the Indiana Roof Ballroom in Indianapolis, IN; to mention just a few.
---
Generally speaking, the Big Bands were dance bands and catered to dancers.  A typical night of music with a big band would include not only their "hot" and popular numbers (songs many band members called "killer dillers"), but also some ballads and even an occasional waltz.
---
There are a number of Big Bands that perform today.  Locally, the Kentucky Jazz Repertory Orchestra (KJRO), co-directed by University of Kentucky School of Music professors Dick Domek and Miles Osland, is one of the most highly skilled big band orchestras in the United States today when it comes to recreating authentic big band, swing-era arrangements.  KJRO has played for a number of Hepcats big band swing dances.
In addition, the UK Jazz Ensemble (UKJE), directed by Miles Osland, has also provided the music for some Hepcats big band swing dances.  UKJE consists of the most talented students in the award winning and nationally recognized UK Jazz Studies program and plays many of the same arrangements played by KJRO.
---
The annual Lindy Focus event in Asheville, NC sometimes features big band nights of the highest quality swing-era big band music featuring artists such as Count Basie, Chick Webb, Artie Shaw, Benny Goodman, Jimmie Lunceford, Duke Ellington, et al.  That nightly music alone makes it worthwhile to attend the Lindy Focus event.
Regionally, the Pete Wagner Orchestra and Lee's Junction Big Band (both based in Cincinnati) and the Tom Daugherty Orchestra (based in Dayton) are good big bands, I just wish they would play more of the original arrangements of the big band swing-era.
---
Nationally, several big bands tour and perform, to include the Count Basie Orchestra, the Tommy Dorsey Orchestra, the Glenn Miller Orchestra, and the Harry James Orchestra.  These bands are sometimes called "ghost bands", in that they have the name of the original band, but whose band members are contemporary musicians.  Much like the bands mentioned in the paragraph above, the music these bands play is often very "jazzy" and consists of a lot of "mayonnaise & white bread" type music.
The Great Big Bands of the Swing-Era
---
---
Jimmie Lunceford.  The Jimmie Lunceford Orchestra was one of the top bands of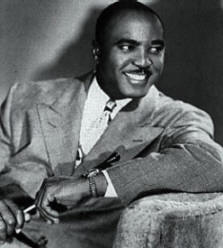 the Big Band era. Lunceford's Orchestra was very popular and entertaining, but in many respects, it is vastly under appreciated today. Lunceford had a formal background in music and was also a fine athlete and coach early in his career.
His combined musical talents, discipline and drive led to the creation of a band that contemporary observers rated near the top with Duke Ellington and Count Basie.  Although Lunceford's band could not boast of a top soloist, the individual band members and ensembles were top notch and always well rehearsed.  In addition, Lunceford used great musical arrangements, particularly those written by the famous Sy Oliver (who was eventually hired away by Tommy Dorsey) and Eddie Durham (who went on to arrange for the Count Basie Orchestra).
Lunceford's orchestra was a "show" band and they unabashedly played music that was designed to please swing dancers (as well as listeners). The band used the visual as well as the music to entertain, playing while the saxophones swayed from side to side, the trombones sliding in an opposite direction and the trumpets tossed in the air, caught just in time to start a riff.  The Lunceford Orchestra's showmanship and appearance was often imitated by other big bands during the swing era.
Lunceford died unexpectedly in 1947 while the band was touring in the northwest United States and the orchestra broke up permanently in 1949. Lunceford's early death, and because the band's superb showmanship is lost on record, has meant a lot of people don't realize the Jimmie Lunceford Orchestra belongs in the pantheon of swing with Basie and Ellington.
An interesting side note.  Some jazz music critics of the day lambasted Lunceford's orchestra as too "entertaining", foreshadowing the day when many jazz musicians looked at "entertaining" the audience or playing for dancers as unworthy of their profession (i.e. "if you're dancing, your not paying attention to me and my music").  Perhaps this is part of the reason why jazz music went from over 90% of music sales in the 1940's to about 3% today, and why modern jazz is sometimes viewed as a music form enjoyed only by elitists and academic types.
There are lots of CDs on the market with Lunceford's music. Selected digitally re-mastered CD's are the best source for Lunceford's music. A couple of suggestions.
Lunceford Special: 1939-1940, Jimmie Lunceford Orchestra.  A great CD, with overall good sound quality considering the technology of the time. "Lunceford Special" is just one of many great songs from this CD.
There are a few excellent re-creations of Lunceford's recordings in the Time-Life "Swing Era" collection, most of them recorded with past members of Lunceford's band.  The Time-Life "Swing Era" collection is worth acquiring for those recordings alone!  In addition, Oscillatin' Rhythm: Great Swing Hits in Hi-Fi, highlights a couple of Lunceford's greatest tunes, "For Dancers Only" and "'T'Aint What You Cha Do, It's the Way That Cha Do It".
Check out this You Tube clip of a 1936 movie short of the great Jimmie Lunceford Orchestra.  Of note is the band playing "Rhythm Is Our Business" and "Nagasaki".
---
---
Duke Ellington.  Edward Kennedy "Duke" Ellington was born in 1899 in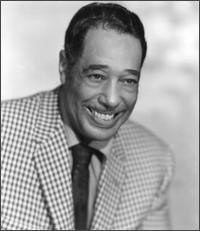 Washington, D.C. He began piano lessons at age 7 and developed a passion for music in his early teens.  He dropped out of high school to begin a career in music.  In 1917 he formed his first band and in 1923 moved to New York.  His band played a number of Club's in New York, to include the Cotton Club.  At the Cotton Club, the band was broadcast live across the nation and their popularity began to spread.
Ellington and his band went on to play everywhere from New York to New Delhi, Chicago to Cairo, and Los Angeles to London, and entertained everyone from Queen Elizabeth II to President Nixon.  Before passing away in 1974, Duke Ellington wrote and recorded hundreds of musical compositions.  Ellington used his band as a musical laboratory for his new compositions and shaped his writing specifically to showcase the talents of his band members, many of whom remained with him for long periods.
Some of Ellington's works include "Rockin' in Rhythm," "Satin Doll," "Take the 'A' Train," "Ring Dem Bells", "Drop Me Off in Harlem", to mention just a few.  Of course, there are countless CD's of Ellington's music on the market for you to enjoy.
---
---
Count Basie.  William "Count" Basie was born in 1904 in Red Bank, New Jersey.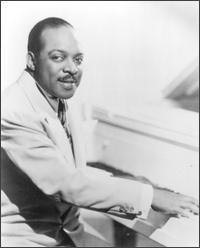 He learned piano at an early age from his mother.  He toured the vaudeville circuit starting in 1924 and in 1928 joined Walter Page's Blue Devils; he then became the pianist with the Benie Moten band based in Kansas City.  After Moten died in 1935, Basie became leader and started referring to himself as "Count Basie".
At the end of 1936 he moved his band to New York City where it remained until 1950.  With the exception of a brief period in the early '50s, he led a big band until his death in 1984.  Basie's orchestra was characterized by a light, swinging rhythm section that he led from the piano, lively ensemble work, and generous soloing.  His band also showcased some of the best singers of the era: Billie Holliday, Jimmy Rushing and Joe Williams.  Basie was not a composer like Duke Ellington or an accomplished soloist like Benny Goodman.  His instrument was his band, which was considered one of the best in the business and became broadly influential on jazz.
Jumpin' at the Woodside, Swingin' the Blues and One O'Clock Jumpand some of Basie's classic songs.  There are lots of CD's on the market for Basie's music.
---
---
Fletcher Henderson.  Fletcher Henderson is acknowledged as the leader of the
first Big Band Orchestra.  He was born in 1897 in Cuthbert, Georgia.  His father was a principal and his mother taught piano.  He graduated from college in 1920 and moved to New York to attend Columbia University for graduate work in chemistry.  Unable to find a job in the chemistry field (due primarily to racism), he found ample work in music.
His first band, formed in 1922, quickly became known as the best African-American band in New York.  Throughout the 1920's and early 1930's, Henderson's bands featured some of the best talent of the swing era, to include Louis Armstrong, Roy Eldridge, Coleman Hawkins and Benny Carter.  Although very popular, Henderson's indifference to the business aspects of managing a band contributed to it's lack of financial and recording success and eventual breakup.
In 1934, Benny Goodman's Orchestra was selected as a house band for the "Let's Dance" radio program.  Goodman needed new charts every week for the show and purchased several arrangements from Henderson.  Henderson eventually joined Goodman's band as a pianist and arranger.  Ironically, as Goodman's band achieved national prominence at the height of the swing era using many of Henderson's arrangements, Fletcher Henderson's name and band was not known to the general public.
Henderson reformed bands of his own several times in the 1940's but these bands were never able to experience any great success.  He suffered a stroke in 1950 and died in 1952 in New York City.
A good source for Henderson's music is the 3 CD box set "The Fletcher Henderson Story", which also has very informative liner notes.
---
---
Chick Webb.  Chick Webb was one of the greatest and most influential jazz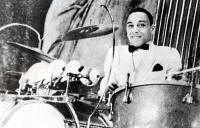 drummers of all time.  He led the Chick Webb Orchestra from 1926 to 1939 during the height of the swing era and his mighty "Battle of the Bands" at the Savoy Ballroom in the Harlem district of New York City were famous, epic encounters.
Chick Webb was born in 1909 in Baltimore, Maryland.  At a young age he contracted spinal tuberculosis, leaving him with a hunchback and limited use of his legs.  At the age of three, doctors prescribed drumming as a remedy for Chick's stiff joints.  Webb readily obliged, banging on pots, pans, and oil drums around the house.  By selling newspapers, Webb was able to save enough money to buy his own drum set.  He quickly landed jobs with local bands and eventually found work in New York City in 1924. Once in New York, Chick played with Johnny Hodges, Tony Hardwick, Benny Carter and Duke Ellington.  Still only 17, Ellington got Webb several gigs at the Black Bottom Club and the Paddock Club in New York.
In 1927, Webb took his band to the Savoy Ballroom and they quickly won over crowds with their flashy, flamboyant, and energetic style.  Although he could not read sheet music, Webb memorized every piece and led the band from a raised platform in the center of the stage, cueing sections with his drumming.  By 1931, Webb's Orchestra was the Savoy Ballroom "house band".  During his time at the Savoy Ballroom, the Chick Webb Orchestra challenged and defeated bands led by the likes of Fletcher Henderson, Benny Goodman, Count Basie, and Duke Ellington during the famous "Battle of the Bands".
In 1935 Savoy Ballroom manager Charlie Buchanan asked Webb to find a younger, hipper vocalist.  Bardu Ali, a member of Webb's band, had noticed a young singer named Ella Fitzgerald at the Apollo Theater and snuck her into Webb's dressing room for an audition.  Ella appeared with the band that night and was an instant success; she and the band formed a powerful partnership that would go on to record 60 songs featuring Fitzgerald over the next three years.
By 1938, Webb's health began to fail him.  Despite his health problems, Webb continued to book the band and travel extensively, saying "I've gotta keep my boys working."  Early in 1939, Webb was admitted into Johns Hopkins Hospital.  In June of 1939, Chick Webb became extremely frail and died with his mother and wife at his bedside on the 16th.  His funeral in Baltimore contained 80 cars in the procession and more mourners than could fit into the church.  After Webb's death, Fitzgerald fronted the band until it finally broke up in 1942.
Much like the Jimmie Lunceford Orchestra, the Chick Webb Orchestra is vastly underappreciated today.  There are several good CD's on the market for Chick Webb recordings (although the relative primitive recording techniques of the time could not adequately capture Webb's spectacular technique and wide dynamic range on the drums).
A good CD for Webb's music is Chick Webb, Stompin' at the Savoy(distributed by ASV/Living Era).
---
---
Benny Goodman.  Benny Goodman was a very celebrated and popular bandleader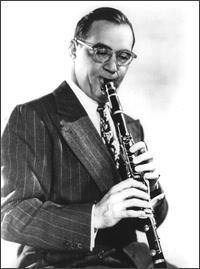 during the swing era.  He was an accomplished clarinetist whose distinctive playing gave an identity both to his big band and to the smaller units he led.  Goodman was born in 1909, the son of Russian immigrants and began taking clarinet lessons at age 10 at a local synagogue.  He quickly developed his musical skills and dropped out of school at age 14 to become a professional musician.  In 1929, he moved to New York, working as a free lance musician, made several recordings under his own name and with pickup bands, and organized his first professional orchestra in 1934.
He was signed for the Saturday night Let's Dance program on NBC radio, playing the last hour of the three-hour show.  The program's budget included funds for new arrangements, which were provided by Fletcher Henderson.  Henderson's arrangements of traditional jazz instrumental numbers, for example, Jelly Roll Morton's King Porter Stomp and such popular songs as Sometimes I'm Happy, established the band's musical character.  Under Goodman's exacting direction, the members' playing was a model of ensemble discipline.  With his own impeccable musicianship, he set a high standard for his sidemen, from whom he demanded accurate intonation, matched vibrato, phrasing, and a careful balancing of parts, performance standards rare in the bands of that time.  It was during these broadcasts that Gene Krupa joined Goodman.
After the conclusion of the Let's Dance series in May 1935, Goodman's band embarked on a national tour.  It was not particularly successful until the band reached the West Coast, where his segment of Let's Dance had been heard three hours earlier than on the East Coast.  The band's performance at the Palomar Ballroom near Los Angeles on August 21, 1935, was a spectacular success, broadcast nationwide to critical and popular acclaim, and is often noted as the date on which the Swing Era began.  On January 16, 1938, Goodman brought a new level of recognition to Big Band swing with a concert in Carnegie Hall, presenting Harry James, Ziggy Elman, Jess Stacy, Hampton, Krupa, and Teddy Wilson from his own entourage, as well as guest soloists from the bands of Duke Ellington and Count Basie.
Goodman enjoyed a productive career until his death in 1986.
Their are lots of CD's out there for Goodman's music.  Ridin' High; and the 4 CD set The Essential Benny Goodman are good places to start.
Also check out B.G. in Hi-Fi.  This 1954 recording is considered to be the best of Goodman's post World War II Hi-Fi recordings.  The album contains 12 selections of his classic big band numbers and another 8 with smaller combos.  Note:  according to the liner notes of this CD, Goodman liked to play for dancers and considered his Big Band music as primarily for that purpose.
---
---
Artie Shaw.  Artie Shaw was one of jazz's finest clarinetists and led several successful bands throughout his career.  Born in May 1910 in New York, NY, he grew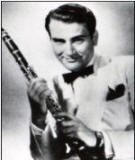 up in New Haven, CT.  By his early twenties, he was playing in bands, jam sessions as a studio musician in New York City.  He put together a big band orchestra in 1937 and the surprise success of his 1938 recording of Begin the Beguine made him a superstar and the band one of the most popular of the swing era.
Shaw found the business and fan pressure of leading a big band difficult and disbanded in 1939.  He continue to form other bands, most often with success.  After Pearl Harbor, Shaw enlisted and led a Navy band until 1944.  He left the music business in 1955.  He was also well known for his eight marriages, including to actresses Lana Turner and Ava Gardner.  He remained outspoken until his death in December 2005 in Thousand Oaks, CA.
There are lots of CD's available with Shaw's music. Some of his classic tunes (besides Begin the Beguine) include Traffic Jam, Non Stop Flight, Man From Mars, The Yam, and Carioca.
Other big bands of the swing-era
Mills Blue Rhythm Band.  Another example of a great big band almost forgotten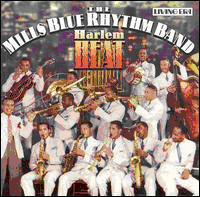 today.  The Mills Blue Rhythm Band was originally formed by drummer Willie Lynch as the Blue Rhythm Band in 1930.  In 1931, Irving Mills became their manager and the group was renamed the Mills Blue Rhythm Band.  In 1934 Lucky Millinder took over the duties of fronting the band and the band reached it's prime.  Although the band was never commercially successful, it recorded frequently during 1931-1937 and could hold it's own with the top big bands of the swing era, as evidenced by their many fine recordings.  When the group broke up in 1938, Millinder formed his own big band.
Among the many recordings of the band:  "There's Rhythm in Harlem" (which has elements of the then-unwritten "In the Mood"; arranged by Joe Garland, originally recorded by Edgar Hayes; see the entry on Hayes below); "Ride Red Ride"; "Back Beats"; "Harlem Heat";and "Yes! Yes!".
Harlem Heat, from the ASV Living Era CD series, contains most of the band's best recording.
---
---
Lucky Millinder.  Lucius "Lucky" Millinder was born in 1900 in Alabama but was raised in Chicago.  He got his start in music as an emcee (he didn't play an instrument and supposedly couldn't even read music) and was essentially a frontman and an occasional singer as he conducted several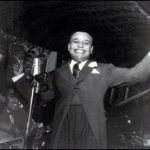 impressive big bands throughout his career.  In 1934 Millinder took over the directorship of the Mills Blue Rhythm Band, one of the really good early black swing bands in the 1930's.
Millinder worked with Bill Doggett's band in 1938 after the Blue Rhythm Band dissolved, and then formed the Lucky Millinder Orchestra in 1940.  The Orchestra became one of the most rhythmically exciting bands on the Big band touring circuit.  The Millinder band was especially popular in Harlem as it gradually shifted away from swing and more toward early rhythm & blues.  Among the orchestra's many noted members were Dizzy Gillespie, Sister Rosetta Sharpe, Benjamin "Bullmoose" Jackson and Wynonie Harris.  Millinder's orchestra recorded with Decca from 1942 to 1945 and landed four records at the top of the charts.
Millinder fronted bands until 1955.  The later recordings tended to be more rhythm & blues oriented as Millinder's Orchestra provided a vital link between big band swing and R&B.  Lucky Millinder spent his later years as a liquor salesman and a disc jockey.
The 2 CD Set "Lucky Millinder and His Orchestra: Apollo Jump" contains most of Millinder's hits, to include "Clap Your Hands"; "Little John Special"; "Mason Flyer"; and "Apollo Jump".
---
---
Cab Calloway.  Cab Calloway was a master showman and a great singer.  Born in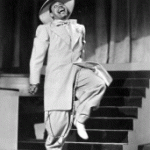 1907 in Rochester, NY, he grew up in Baltimore, attended law school but dropped out to give singing and dancing a try.  He quickly hit the big time as a big band leader personality and film star.  He appeared in the early 1980's movie "The Blues Brothers".  Many of the words and phrases from the lyrics of his songs worked their way not only into musical language but into everyday usage.  It's often overlooked that the bands he assembled were first-rate.  He died in 1994.
Are You Hep To The Jive?  This classic album, with 22 tracks of great lyrics and music, covers Calloway's hits from the 1940's for the Okeh, Columbia, and Vocalion recording labels.  It contains most of Calloway's famous songs, to include "Everybody Eats When They Come to My House", "Are You Alreet?" and "Are You Hep to the Jive?".
Click here for a video (from YouTube) of Cab Calloway & His Orchestra performing Hep! Hep! The Jumpin' Jive, with the famous Nicholas Brothers.
---
---
Erskine Hawkins.  Erskine Hawkins was a very talented trumpeter and bandleader, nicknamed the "the 20th Century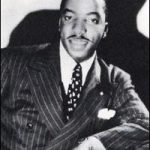 Gabriel".  He was born in Birmingham, Alabama in 1914, the son of a U.S. solider who lost his life in action in World War I.  He began playing drums at the age of 7, tried the trombone for a while, them decided at the age of 13 to concentrate on the trumpet.  While attending Alabama State Teachers College, he became the leader of the 'Bama Sate Collegians.  The band gained regional prominence during the depression, often using monies earned to assist Alabama State College during the hard times.
The band went to New York in 1934, became the Erskine Hawkins Orchestra and by 1938, had developed a strong following, especially in the Savoy Ballroom.  He was able to keep the big band together until 1953, although some of his later music was more R&B-oriented.  Hawkins led a smaller unit during his last few decades and the trumpeter kept on working into the 1980s.
Hawkins' biggest hits were "Tuxedo Junction" and "Tippin In"; other songs such as "Swingin' in Harlem" and "Riff Time" also really swing.
---
---
Edgar Hayes.  Edgar Hayes is worth mentioning for at least two reasons.  First, he

was born in Lexington, KY in 1904!  And secondly, his band recorded the original version of "In the Mood" in February 1938, eighteen months before Glenn Miller's cover version was released (c. August 1939).  Hayes' version of "In the Mood" swings a lot harder than Glenn Miller's more commercially oriented version.  It's a shame that Hayes' version of "In the Mood" is seldom heard at swing dances (except at Hepcats events!).
For a CD of Hayes' music, check out the Edgar Hayes Classics Chronological Series CD.
---
---
Lionel Hampton.  Born in Louisville, KY in 1908, Lionel Hampton is famous as the first jazz vibraphonist.  His music career began in the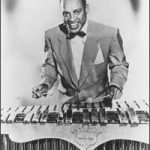 Chicago area, where he played with various bands, most often on drums.  He established his own big band in the early 1930's, but he also began to play with the Benny Goodman Orchestra in 1936.
In 1942, Hampton's orchestra's released Flying Home, which was a big hit and provided the band instant success.
Throughout the rest of his life, Hampton was not only an accomplished orchestra leader and musician, but a distinguished jazz music educator.  In 1987, the University of Idaho school of music was renamed for Hampton.
---
---
Harlan Leonard.  Harlan Leonard led a fine big band orchestra in the 1930's and
early 40's, primarily based out of the Kansas City area.  The band never got the big break that would have catapulted them to national recognition.  Leonard's band recorded only 23 tracks in their one recording session in New York City; those recordings exhibit the maturity and hard-swinging abilities of the Leonard orchestra.
The band's output is available on the Chronological series on one CD, although that CD can be hard to come by.  The best way to sample Leonard's music is with the Kentucky Jazz Repertory Orchestra's (KJRO) CD Flying Home.  This CD has three of Leonard's best songs: Too Much, Skee, and Hairy Joe Jump.
---
---
Willie Bryant.  With the success of Cab Calloway, other singers and dancers tried the same formula of leading a big band.  The band led by William Steven "Willie" Bryant was one of the few that was successful, albeit for a short period of time.
Born in New Orleans in 1908, Bryant grew up in Chicago and began his

show business career in vaudeville as a dancer.  He organized his big band in late 1934 and was often featured at the Savoy Ballroom in New York City and other Harlem venues.  His bands' best recordings are from this time period.  He later became well known as the regular emcee at the Apollo Theatre in the 1950's.  He also worked as a disc jockey in Los Angeles where in died in 1964.
Willie Bryant and His Orchestra, 1935-1936 (Classics Chronological Series) has several great songs from Bryant's big band orchestra, to include "Viper's Moan", "Rigamarole", and "Long Gone From Bowling Green".
---
---
Glen Gray and the Casa Loma Orchestra.  Although somewhat unknown and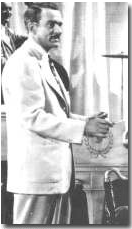 under appreciated today, the Casa Loma Orchestra was one of the first "swing" bands of the swing era, incorporated in 1929 as a co-op among the band members.  Glen Gray, a saxophonist with the group, was named president of the group and was eventually designated as the group's leader on the bandstand.
In the early 1930's, the band was supposedly one of the few white big band orchestras playing music in a "hot" jazz style, exposing younger, "hipper" audiences to this emerging, swinging style of big band music.  The band was especially popular in the north east with college crowds, who at that time were largely unaware of the great black big band orchestras.
The band's style was largely created by arranger Gene Gifford, who favored a combination of riff driven, staccato based arrangements played at fast tempos; and sentimental ballads and "pop" tunes of the day.
In 1933 and 1934 the band was featured on the Carmel Caravan radio show, becoming one of the first "swing bands" to appear on radio.  By 1935, with the emergence of Benny Goodman and Artie Shaw and the public's growing knowledge of and appreciation for the great black big bands of Duke Ellington, Jimmie Lunceford and Cab Calloway, the Casa Loma Orchestra was no longer seen as a trendsetter.  Although the band remained popular in the late 30's and early 40's, the band called it quits in 1945.
Although in hindsight the band's arrangements may seem stiff and too precise, it should not be forgotten that in the early 1930's the band was indeed a trendsetter and introduced many an audience to a hot, swinging style of jazz music that led to one of the greatest eras for American jazz music.
In the mid 1950's Glen Gray was hired by Capital Records to record a series of big band re-creations of not only Casa Loma songs but other big band orchestras.  The recordings were commercially successful (and most are now available on CD). Glen Gray died of cancer in 1963.
Some of the famous tunes for Glen Gray and the Casa Loma Orchestra include "Casa Loma Stomp"; "Zig Zag"; "No Name Jive"; "Come and Get It" and "Smoke Rings"; among many others.
---
---
Buddy Johnson.  Buddy Johnson & His Orchestra was very popular in the 1940's and often appeared at the famous Savoy Ballroom in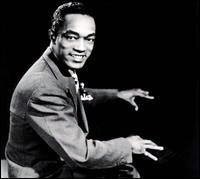 New York City.  Johnson developed a style and tempo in his music for those that weren't "expert dancers" and could not always handle dancing to the faster tempos.  A lot of his songs on the two CDs noted below have a blues kind of feeling, but most of the songs really swing and are great for dancing.
A couple of CDs for Johnson:  Walk 'Em, and Rockin' and Rollin'.
---
---
Glenn Miller.  Miller was born in Clarinda, Iowa in 1904.  He lived in various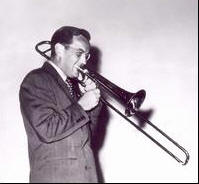 locations in the Midwest while growing up.  He attended the University of Colorado in 1923, but left college after a year to start a career in music.  He worked as a session musician and arranger for several bands and organized his first touring band in 1937.
This band got it's big break in the summer of 1939 with an engagement at Glen Island Casino in New Rochelle, NY, a popular venue with regular radio broadcasts, giving the band extensive exposure.  Miller's band quickly became a recording and financial success.  From the spring of 1939 to the fall of 1942, the band was the most commercially successful of all the big bands, experiencing enormous record sales, radio exposure and even appearing in movies.  In 1942, after months of negotiation, Miller received a commission in the army air force and organized a service band, performing at military camps, war-bond rallies and hosting a weekly radio series.  He took the band to Great Britain in June 1944 to perform for the troops and do radio broadcasts.  In December 1944, the plane on which he was traveling to Paris disappeared over the English Channel and he was presumed dead at age 40.
For serious Lindy Hop and Balboa swing dancers, most of Miller's music is seriously lacking.  Very little of his music is played at swing dances for the simple reason that there is much better music available that swings a lot harder, and by big bands that were considered much better in the big band era.  While Miller's music may be distinctive to some, his approach was highly disciplined and rigorously rehearsed to the point of being rigid and uptight; his music often lacks any real improvisation.
It's really unfortunate that so many people today associate the big band sound of the 1930's and 40's exclusively with Glenn Miller.  Miller made no secret of his admiration for the African-American bands of the swing era, and he actively encouraged his own musicians to attend performances of the bands of Jimmie Lunceford, Duke Ellington, Cab Calloway and Count Basie whenever possible.
String of Pearls is probably Miller's best song for swing dancing from his most popular years.  Conversely, Miller's version of In the Mood (released in Aug. 1939) is relatively bland when compared with the original version of the song released (in Feb. 1938) by the Edgar Hayes Orchestra.
An interesting CD is Glenn Miller and His Orchestra: The Early Years. This CD has 24 recordings from Miller's earlier, emerging bands (c. 1935-1938).  Some of these recordings, i.e. Community Swing and Solo Hop, swing very nicely.
---
---
The Territory Bands 1935-1937, various artists.  As previously mentioned, it's been estimated that there were over 400 bands in the early 1940's criss-crossing the country, playing night after night of one night stands, looking for that elusive "break".  Some of these bands were known as "territory" bands (note that the term "territory" is loosely defined).  These bands were often based in the mid-west, including Nebraska, Kansas, Oklahoma and Texas (although every region of the country had their share of "regional" bands).  They regularly played in cities such as Memphis, Cincinnati, St. Louis, Pittsburgh, Buffalo, Oklahoma City, and some cities as far west as California.  Many of the sidemen that went on to play with the more famous nationally famous big band orchestras got their start in these territory bands.  The vast majority of these bands were never recorded and little is documented about them.
The Territory Bands 1935-1937 CD has some really swinging songs (especially good for Balboa dancers!) and helps illustrates just how many great bands were in existence during the swing era.  Of note on this CD are recordings by the Blanche Calloway Orchestra (Blanche was the sister of Cab Calloway).
Jump Blues was the bridge between the older styles of rhythm and blues, primarily those in a small band context, and the big band swing and jazz sound of the 1940's.  Jump Blues refers to an up tempo, jazz-tinged style of blues that first came to prominence in the mid-to late 1940's.  Usually featuring a vocalist in front of a large, horn-driven orchestra or medium sized combo with multiple horns, the style is earmarked by a driving rhythm, intensely shouted vocals, and honking tenor saxophone solos, all of those very elements a precursor to rock & roll.  The lyrics are almost always celebratory in nature, full of braggadocio and swagger.
Here are some of the Hepcats favorite Jump Blues artists.
---
---
Louis Jordan.  If you go to a Swing Dance and you don't hear a song by Louis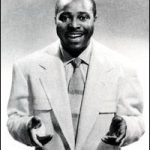 Jordan & His Tympany Five, you should ask for your money back!  Louis Jordan has been rightly called the father of Rhythm & Blues and he profoundly influenced it's development and the subsequent development of rock & roll.  Jordan himself summarized the influence of rhythm & blues on the development of rock & roll:  "Rock 'n roll was not a marriage of rhythm and blues and country and western. That's white publicity. Rock 'n roll was just a white imitation, a white adaption of African-American rhythm and blues."
Jordan was a prolific songwriter and artist, and a masterful and unrivaled entertainer and musician.  During the most successful 8 year run of his career from 1942-1950, he had an amazing 57 R&B chart hits, 18 of which hit #1, totaling 113 weeks in the #1 slot.  Jordan paid his band members very well, but was a perfectionist and one of the strictest leaders in the business, demanding punctuality and long rehearsals.  Originally from Brinkley, Arkansas, Jordan played in Chick Webb's band at the Savoy Ballroom in New York City in the 1930s, then formed his own outfit, the Tympani Five.  Especially popular during WW II, Jordan recorded numerous songs for the Armed Forces Radio Service and the V-Disc program.
His style of music featured swinging, danceable rhythms and clever lyrics that were popular not only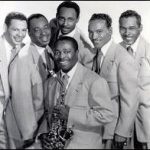 with the Rhythm & Blues market but also with the emerging pop music audience, traits that did not pass unnoticed by a young artist in St. Louis, MO named Chuck Berry.  In fact, artists such as Chuck Berry, Ray Charles, B.B. King and Bill Haley have noted the great influence Louis Jordan had on their music (Berry was quoted as saying "I Identify myself with Louis Jordan more than any other artist").  Bands continue to cover Jordan's songs to this day.
Some of Jordan's classic songs include "Choo Choo Ch' Boogie" ("You reach your destination but alas and alac, you need some compensation to get back in the black …..); "Knock Me A Kiss" (…"I'll cut out cake just for your sake, Baby, C'mon, and Knock Me A Kiss"… a great song for dancing to the breaks in the music!); "Ain't Nobody Here But Us Chickens" ("We got worms to dig and ground to scratch, It takes a lot of work a gettin' chicks to hatch …); among many others.  To summarize, Jordan's music and lyrics are just plain awesome (and I don't use the word "awesome" that much)!  I never tire of listening or dancing to Jordan's music!
There are lots of CD's with Jordan's music, including a lot of compilation CD's.  A good start for Jordan's music is this CD: Louis Jordan, 20th Century Masters, The Millennium Collection.
---
---
Big Joe Turner.  Turner was a product of the swinging, wide-open Kansas City music scene, where he was born in 1911.  He is best known as one of the great "blues
shouter" of his time.  His music effortlessly spanned boogie-woogie, jump blues and the first wave of rock & roll, enjoying great success in each genre.  Much like Louis Jordan, Big Joe Turner was a big influence on other Jump Blues artists and the early rock and rollers.  Bands cover many of Turner's classic numbers, although few, if any, singers can match his booming vocals.  Turner died on November 24, 1985 after a long recording career.
Some of Turner's great songs include "Shake, Rattle and Roll" (Bill Haley & the Comets "cleaned up" the lyrics and had a hit with this song); "Flip, Flop & Fly"; "Hide and Seek"; "Boogie Woogie Country Girl"; among many others.  For Turner's music, The Very Best of Big Joe Turner is a good start.
---
---
Wynonie Harris.  Originally from Omaha, Nebraska, Wynonie Harris was a fine dancer before turning to music.  One of his main influences was Big Joe Turner.  Harris made his own mark on the music world with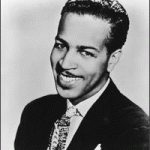 his trademark raspy and boisterous voice over some of the jumpingest horn-powered combos of the postwar era.  Many of his hit records in the late 1940's/early 1950's were recorded at Cincinnati, Ohio's King Records label.  Many of his songs have suggestive lyrics; his music is a lot of fun for listening and dancing.
Some of his classic songs include "Who Threw the Whiskey in the Well" (Harris' first big hit, recorded with the Lucky Millinder Orchestra); "Shake That Thing"; "Don't Take My Whiskey Away From Me"; "All She Wants to do is Rock"; "Good Rockin' Tonight" (one of the classics of the Jump Blues genre); "Bloodshot Eyes"; "Wasn't That Good"; to name only a few.  Bloodshot Eyes: The Best of Wynonie Harris is a fine CD from one of the great "blues shouters" of the Jump Blues era.
---
---
Bullmoose Jackson.  Jackson was born in 1919 in Cleveland, OH. He was a fine saxophone player and had a distinctive voice.  He formed his first band, The Harlem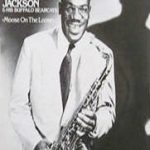 Hotshots, while in High School.  In 1943, Jackson joined the Lucky Millinder Orchestra, one of the swingin'est bands in the big band era.  Some of his fellow musicians felt that "Ben Jackson" was not a colorful enough name, so they began calling him "Bullmoose" and the name stuck.  After Wynonie Harris left the Millinder Orchestra, Jackson took over as vocalist.
In 1945, Jackson formed his own musical group, Bullmoose Jackson and the Buffalo Bearcats, and they had a number of R&B hits in the 1940's & 50's.  Many of the songs contained double-entendre type lyrics, although it should be noted that Jackson was also a fine ballad singer.  His most famous song is "Big Ten Inch Record", a classic of the jump blues genre. For Jackson's music, The Very Best of Bull Moose Jackson: Big Ten-Inch Record is a good start.
In 1984, Jackson was coaxed back into the music business by the first-rate Pittsburg, PA band The Flashcats.  Jackson quickly became a cult figure in the Pittsburgh area.  His ability to sing and captivate an audience led to numerous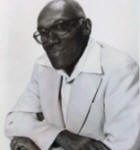 sold-out performances with the Flashcats.  Jackson was grateful for the opportunity to perform again and was quoted as saying "I'm elated that I can still perform, and I'm very proud that people still remember. They've resurrected an old man. I had one foot in the grave and the other on a banana peel. They dug me out and here I am."
Jackson and the Flashcats toured extensively in the U.S., to include Jackson's first appearance at New York's Carnegie Hall in 1985.  Jackson continued to perform regularly (to include a tour in Europe) until 1987 when his health began to fail.  Benjamin Jackson passed away in Cleveland, OH on July 29, 1989.
Bullmoose Jackson and the Flashcats recorded one LP (Moosemania!) available as a CD from Bogus Records: "Bullmoose Jackson and The Flashcats – The Final Recordings".
Some lessor known musicians of the swing era
Click here for info some lessor know musicians of the swing era
Other genres of music with some swing
Some info below on a few other genres of music that (depending on the song) has some "swing" in it.
---
Jazz Vocalists/Crooners
Many of the greatest jazz vocalists and crooners came from the big band era, to include Frank Sinatra, Billie Holiday, Ella Fitzgerald, Mel Tormé, Anita O'Day, Sarah Vaughan, Peggy Lee, et al.  Almost all of them toured with big bands and many went on to have major success during the post-war era.
Though it isn't easy separating jazz vocalists and crooners from traditional pop singers, those in the jazz vocalist/crooner arena delivered sophisticated and innovative variations of the material, both in performance and in recordings.  They often declined to record the generic pop hits of the day and preferred to work with talented arrangers, such as Nelson Riddle and Billy May.
---
1940's/Early 50's Pop Vocalists
This was a transitional era, bridging the big band sound with popular music before the tidal wave of rock and roll.  In some ways, this era was bland, simplistic and void of real artistic merit.  The explosion of Rock & Roll ended this era, but many of the artists adapted and continued successful careers not only in music but in television and the movies.  The music in this era encompasses a wide range of artists, such as Nat King Cole, Johnny Mercer (also a gifted songwriter), among others.
---
1940's/50's/60's Rhythm & Blues (R&B)
Evolving out of jump blues in the late 1940's, R&B laid the groundwork for rock & roll.  R&B kept the tempo and the drive of jump blues, but its instrumentation was sparer and the emphasis was on the song, not improvisation.  During the 1950's, R&B was dominated by vocalists like Ray Charles and Ruth Brown, as well as vocal groups (sometimes known as "Do Wop" groups) like the Drifters and the Coasters.  Eventually, R&B metamorphosed into soul, which was funkier and looser than the pile-driving rhythms of R&B.
For historical information on the origins of R&B, check out the Hoy Hoy web site.
Sam Cooke-Greatest Hits.  Sam Cooke was one of the most influential soul

singers of the late 1950's/early 60's.  Early in his career he was a very successful gospel singer.  He entered popular music with the song "You Send Me".  This song was a huge success, melding the elements of R&B, gospel and pop music into a then new and still developing sound that eventually became soul music.  Some of his best songs include "That's It, I Quit, I'm Movin' On", "Twistin' the Night Away", and for a great ballad, "Nothing Can Ever Change This Love I Have For You".
Lou Rawls.  Rawls

was a very versatile performer.  As a singer, he was at home with gospel, early R&B, soul, jazz, blues and contemporary pop music.  He had several television and movie roles to his credit and even served as an Army paratrooper (which I can relate to!) in the 1950's.
---
1950's Rock & Roll (R&R)
The 1950's in music (or 50's) often refers to the early but definite beginnings of Rock & Roll music.  Early Rock & Roll drew from a variety of sources, to include Jump Blues, Rhythm & Blues (R&B), country, gospel, traditional pop, jazz, and folk.  All of these influences combined in a simple, blues-based song structure that was catchy and generally danceable.  The first wave of rock & rollers — Chuck Berry, Elvis Presley, Little Richard, Jerry Lee Lewis, Buddy Holly, Bill Haley, Gene Vincent and Carl Perkins — set the standard for those that followed.
There was also a "Rockabilly Revival" of 1980's, dedicated to replicating the style and sound of the classic 1950's rock and roll.  Though there had always been bands that played rockabilly, the Rockabilly Revival didn't hit its stride until the post-punk era, when a number of new bands picked up the sounds of rockabilly.  The first rockabilly revival culminated with the success of Brian Setzer and the Stray Cats in the early 1980's, first in Europe and then in the U.S.
Chuck Berry.  For the 1950's Rock & Roll (R&R) genre, the most important artist is Chuck Berry.  Indeed, Chuck Berry is considered by many to be not only the father of R&R, but its greatest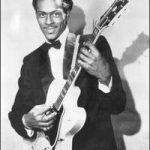 songwriter and one of its greatest guitarists and performers.  Many artists, to include the Beatles, Elvis, the Beach Boys, the Rolling Stones, among many others, have noted the huge influence of Chuck Berry on their music.  Without Chuck Berry, there would be no R&R music as it developed and exists today.  And as noted earlier, Berry was greatly influenced by jump blues artist Louis Jordan ("I identify myself with Louis Jordan more than any other artist".).
What made Chuck Berry so unique?  It was a combination of factors.  His songs had a seemingly inexhaustible supply of fresh, new lyrics that spoke to a generation tired of the bland and boring songs of the late 1940's and early 1950's pop music genre.  Berry's music had a sound that appealed to a cross section of society in the 1950's, both black and white.  His music also had a distinct sound that was not easily copied and covered by other pop singers (i.e. the way Pat Boone copied and covered songs by Fats Domino, Little Richard, etc.).
So many of Berry's songs are considered classic R&R: "Roll Over Beethoven", "Brown Eyed Handsome Man", "Sweet Little Sixteen", "Johnny B. Goode", "You Never Can Tell", "No Particular Place to Go", to name a few.
Bill Haley & the Comets.  Although Chuck Berry is rightly considered the father of rock & roll, Billy Haley is a close second.  Bill Haley & the Comets was

one of the first groups to successfully combine Rhythm & Blues (R&B) and western swing with a bit of country boogie and jump blues into a rock & roll sound that is now generally known as rockabilly.  Haley wrote much of his own material.
The group's classic numbers include "R.O.C.K.", "See You Later, Alligator", among others.
---
Rockabilly, early 1950's rock 'n' roll
There are a number of recordings on the market that capture the 1950's rockabilly, early 50's rock 'n' roll music for artists such as Elvis Presley, Carl Perkins, Jerry Lee Lewis, Buddy Holly, Gene Vincent and Eddie Cochran, among others.
---
"Modern" Swing Music
When I DJ, I only play songs by "modern" swing bands that are dedicated to "Keepin' It Real"!  That would include the Kentucky Jazz Repertory Orchestra (KJRO), Mora's Modern Rhythmists, the Jonathan Stout Orchestra, etc.  In my view, most DJ's play way too much music by "modern swing bands", as opposed to the original bands of the big band swing-era.  DJ's, don't be lazy: learn about and acquire the great music of the big band swing-era and let that be the centerpiece of your music - keep it real!
Swing dancing to live music
Should you attend swing dances with live music? Yes, of course - - but note it should be good, live music.  Dancing to good, live music is a much different experience than dancing to DJ music.
Finding a venue/a band that plays good, live swing music is challenging (but it's a worthwhile endeavor!).  Most bands that play live music in this general area (central KY/Ohio Valley) play a lot of "mayonnaise and white bread" type music.  It's certainly not even close to  the great swing music of the 1930's/40's big band swing-era.
---
Where can you find venues with good, live swing music?  First and foremost, there are the Hepcats Big Band Swing Dance collaborations with the Kentucky Jazz Repertory Orchestra, which feature the best live music for swing dancing in the Lexington/central KY area!  The Hepcats also sponsor other live music events, such as Swingin' on Main, Lexington's annual street dance.
The annual Lindy Focus event in Asheville, NC sometimes features dance a nightly dance with the big band music of artists such as Chick Webb, Jimmie Lunceford, Benny Goodman, Artie Shaw, Count Basie, et al.  It's an event worth attending just for the nightly music.
---
Check out the Hepcats dances or calendar web page for the latest info on live music events.
Where to get/purchase good swing music
I like to get most of my music by purchasing the CDs (in addition to the music, I like to read the liner notes!).  I get very little of my music from downloads, on-line resources, etc.  Finding good, danceable swing CDs can be difficult, and gets more difficult each year.  Here are a few places to look.
---
On-line retailers offer search options and normally a huge selection.  At local retailers the selection may not be as great but they do offer one the chance to actually look at and "feel" the CD (which is important to some people).  In music stores, "Swing" CDs are often scattered among the oldies, jazz, rock and easy listening sections.  An often overlooked source is your local library.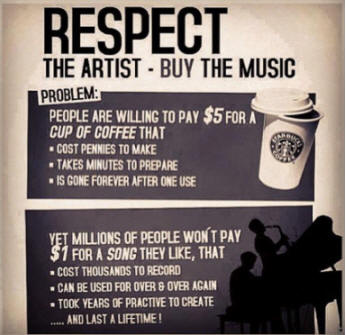 ---
For another source of information, ask fellow swing dancers what music they like.  Note what songs you like at swing dance venues you attend and then use an on-line retailer search engine to find the song or the CD.  Note that a lot of different bands will cover the same song, so ensure you get the right group.  For example, "In the Mood" was originally recorded by Edgar Hayes Orchestra, and was later covered by the Glenn Miller Orchestra.  If you searched for the song "In the Mood" at an on-line retailer search engine, you would most certainly get Miller's version, maybe not Hayes' version as a result.
Keep in mind that it is almost impossible to obtain depth in your music collection if your primary source of music is "free" or shareware downloads from the internet.  If you want to obtain a depth in your music, then you're going to have to spend some bucks and purchase good music.  The vast majority of really good swing dance music cannot be obtained for free on the internet (for a variety of reasons).
---
One last note for this area.  A lot of people download music from the web from various sources (free and commercial).  Nothing wrong with that, I do that on occasion (although if you download music be aware there may be restrictions on how many times you can copy that particular song).   For those that like to "collect" music, and especially for those that think they might want to be a swing dance DJ at some point in the future, I still think it's a good idea to get the CD, if possible.  As previously noted, I like to read the liner notes!
Is the music really that important?
Other than learning to actually Lindy Hop and Balboa, the cornerstone of swing dancing is the music.  For Mike & Mary, that's what makes Lindy Hop and Balboa different from other dance styles, the great music of the big band swing-era!
What kind of recorded (DJ) music will you hear at a Hepcats swing dance?
At Hepcats events, you can be assured you'll hear great swing music!  At other swing dance events, it all depends....
---
In general, it has never ceased to amaze me how much Lindy Hop and Balboa dancers will tolerate bad music, and often bad non swing music.  It seems to be more of a problem in swing dance scenes where there are no real standards for music, i.e. pretty much anyone is allowed to DJ the music.  As someone once said "If you don't care where you're going, any road will get you there".  The Hepcats have always emphasized quality swing music for our events - that will never change. We believe in - - Keepin' it Real!
---
There should be a variety of swing music played at swing dances, but the actual music played will depend on a number of factors.  For example, a Lindy Hop event will normally have much different music than a Balboa event. Generally speaking, swing music from the 1930's and 40's, i.e. the classic Big Band and jump blues music should be well represented at swing dance events.
If you want info on the music played at specific events and venues, feel free to ask Mike and/or Mary.
A couple of items of interest
Mike Richardson was honored to author the entries for Edgar Hayes (born in Lexington, KY, May 23, 1904) and Lionel Hampton (born in Lousiville, KY, April 20, 1909) for the Kentucky African American Encyclopedia, published in 2015.
Mike also contributed (in a small way!) information for the liner notes and song recommendations for the Kentucky Jazz Repertory Orchestra's 2009 CD, Flying Home.  Much thanks to Dick Domek and Miles Osland for allowing me to contribute.