Below is info on a few lessor know musicians swing era, in no particular order or preference for artist or genre, not listed on the Hepcats music page.  I'll add additional musician information as I get the time.
Jimmy Liggins was born in 1922 in Newby, Oklahoma.  As a teen, he took up the sport of boxing (under the name Kid Zulu), but went to work for his older musician brother Joe as his chauffeur.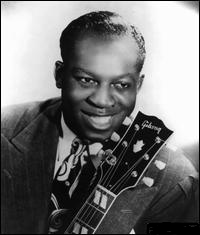 As his brother's chauffer, Jimmy Liggins saw first hand the post World War II R&B music scene.  He soon developed a desire to start his own band and began to learn the basics of music and the guitar.
In 1947 he started "Jimmy Liggins and the Drops of Joy", patterned (as to be expected) after his brother's band.  With Jimmy as leader, guitarist and singer, the band recorded with the Los Angeles based Specialty Records label from 1947-1954.  The band had several R&B hits, to include "Cadillac Boogie", "Saturday Night Boogie Woogie Man", and "Drunk".  The band was also popular as a touring act, playing often in the Los Angeles area and the Mid-West.
By 1952, records sales had slowed for Jimmy Liggins and the Drops of Joy, as the public's music tastes were starting to change. Many R&B performers were aware something new was on the horizon.  But few were able to adapt, and the tidal wave of rock and roll music in 1954-56 left most jump blues/R&B performers in its wake.
In July 1954, Liggins left Specialty Records for the Aladdin label (also based in Los Angeles).  His first recording for Aladdin was "I Ain't Drunk (I'm Just Drinkin')", a response to "Drunk", his last hit for Specialty.  Although "I Ain't Drunk" was popular in Los Angeles (and is now considered a classic of the jump blues genre), and the band remained somewhat popular on the road, Jimmy Liggins slowly faded from the music scene.
Jimmy Liggins had moved out from under the shadow of his older brother, establishing a hard swinging and successful band. His music and stage presence impacted and influenced other rock and roll musicians such as Little Richard, Chuck Berry, Bill Haley and Elvis Presley.  Liggins died in July 1983 in Durham, NC.
Some of Jimmy Liggins' great songs include: "I Ain't Drunk"; "Cadillac Boogie"; "Saturday Night Boogie Woogie Man"; and "No More Alcohol".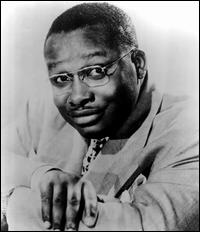 Born in Guthrie, Oklahoma in 1915, Joe Liggins was an accomplished pianist, arranger and vocalist by the time his was twenty years old.  He moved to Los Angeles in 1939 and played with various musical groups, to include Sammy Franklin's California Rhythm Rascals.  Unable to convince Franklin to record a song he had written called "The Honeydripper", Liggins formed his own band, "Joe Liggins and the Honeydrippers".
Between 1945 and 1948, Liggins had ten hits with Los Angeles based Exclusive Records, a black-owned R&B Independent Label.  This included "The Honeydripper", released in 1945 with reportedly two millions copies sold; and "I've Got a Right to Cry", which sold 1.8 million copies.
Exclusive Records encountered financial difficulties in 1949 and Liggins moved to Specialty Records, also based in Los Angeles.  For the next three years, Joe Liggins had several hit records with the Specialty label, in addition to playing to packed houses on the dance and show circuit throughout the U.S.
By 1954-55, changing times, fickle public tastes and the on-set of rock and roll led to a decline in Liggins' record sales, bookings and popularity.  Like many of the pioneering jump blues and early R&B artists that paved the way for rock and roll, the new rock and roll audience of teenagers related to younger performers.  To this audience, the jump blues and R&B music of the 1940's/50's seemed old and dated.
By 1956, rock and roll was the music of teenage America, dominated by Elvis Presley, with county, rockabilly and doo wop vocals fighting for the remaining shares.  Few people were interested in the 1940's/50's jump blues and R&B music that made much of rock and roll possible.
In the mid 1980's, Joe Liggins' music came back into fashion and he once again attracted attention, appreciation and bookings on the Blues and Jazz festival circuit.  He led a band from then until his death in 1987 in Lynnwood, CA.
Some of Joe Liggins' great songs include: "The Honeydripper"; "Rag Mop"; "Whiskey, Women, and Loaded Dice"; and "Freight Train Blues".
Myron c. (Tiny) Bradshaw was born in Youngstown, OH in 1907.  After high school, he graduated from Wilberfore University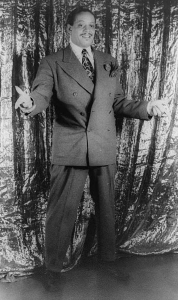 with a psychology degree, but turned to music as a career.  Early in his music career, he sang and played the drums with many fine big band orchestras, to include Horace Henderson, the Savoy Bearcats, the Mills Blue Rhythm Band and Luis Russell.  In 1934 he formed his first orchestra and recorded a few sides for Decca Records.  When his orchestra next recorded 10 years later in 1944, the music was becoming closer to rhythm and blues (R & B), and Bradshaw's style of music began to experience some success.
His bands recorded extensively for King Records in Cincinnati, OH in the R& B genre between 1949 and 1955.  His most famous recording was the 1951 King record "Train Kept A-Rollin'"; other notable recordings include "Ding Dong Daddy From Dumas", "Well Oh Well" and "Breakin' Up the House".
Bradshaw died in Cincinnati, OH in 1958.
Like many jump blues artists, Roy Brown is vastly under-appreciated today.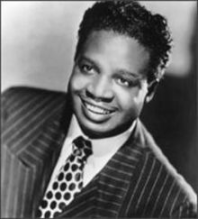 Born in 1925 in New Orleans, Brown got his start singing gospel music in church.  Growing up, he lived in Los Angeles, Houston and Louisiana.  After a brief period as a professional boxer, he won a singing contest in 1945 and fully developed his rhythm and blues (R&B) style of singing during a nine month gig at a Shreveport, LA club.
He was one of the first R&B singers with a gospel style of delivery, a style that influenced later artists such as B.B. King, Elvis Presley and Little Richard.
Brown was a big fan of Wynonie Harris and tried to interest him in a song he had written, Good Rockin' Tonight.  Harris at first rejected the song, but Brown recorded the song in early 1948 and had a minor hit.  Harris covered the song in late 1948 and it hit the top of the R&B charts.  Harris' version of Good Rockin' Tonight is considered a classic of the jump blues genre (and Brown's version is also good!).
From mid-1948 until late 1951, Brown had a very successful run of hit records, scoring 14 hits, including Love Don't Love Nobody, Boogie at Midnight and Cadillac Baby.
As doo-wop and other R&B groups began to gain popularity, Brown's career began to wane.  When rock and roll music hit the scene, he tried "teenage" type songs, but he had little success.  Brown went into semi-retirement, but recorded and performed in the late 50's and 60's when opportunities were available.
In 1970 Brown appeared at the Monterey Jazz Festival.  The crowd's positive reaction led to a minor revival of his career in the 70's.  But like a lot of early R&B artists, he never received the credit (artistic or financial) for the rock and roll era he helped invent and develop.
Roy Brown died of a heart attack on May 25, 1981 in San Fernando, CA.
Earl "Fatha" Hines was one of the greatest and most influential pianist of the swing-era.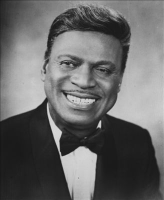 Born in Duquesne, PA (about 12 miles from Pittsburgh) in 1903, he briefly played trumpet as a youth before switching to piano.  He moved to Chicago in 1923 and played and recorded with several bands before teaming up with Louis Armstrong in 1926.  By 1928 (at the age of 25) Hines was leading his own big band orchestra at Chicago's Grand Terrace (notable as being owned by gangster Al Capone).  He would lead a big band for the next 20 years.
Forced to give up his big band in 1948 due to economic conditions, Hines continued playing with various ensembles (to include Louis Armstrong's All-Stars), and later formed a Dixieland band.  However, by the early 1960's he was largely forgotten.  He played a series of concerts in New York City in 1964 and  was "re-discovered" as he amazed jazz critics and audiences with his creativity, vitality and virtuosity.  Once once again Earl "Fatha" Hines was back in the limelight, staying active both playing and recording until his death in 1983.
Older sister of Cab Calloway, Blanche Calloway was born in Rochester, NY in 1902 to a middle class family (her father was a lawyer and her mother a music teacher) that moved to Baltimore, MD when she was a teenager.  Much to her family's chagrin, she dropped out of college in the early 1920's to pursue a music career.  She initially worked as a singer and dancer, but often struggled in her career in the racially segregated and male-dominated music industry of the period.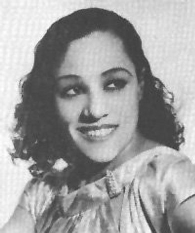 Her greatest success was from about 1931-1935.  She was the first woman to lead an all male jazz orchestra, Blanche Calloway and Her Joy Boys, later renamed Blanche Calloway and Her Orchestra.  Her band performed frequently in the New York City area, recorded several excellent songs and was known as an outstanding orchestra for that period.  Her performance style was lively and animated and was a major influence on her brother's career and performing style.  By the mid 1930's, just as Cab Calloway's career began to rise, her bookings and music opportunities diminished.
In her later life, she was involved in several business ventures, both music and non music, and became active in politics.  She died in 1978 from breast cancer.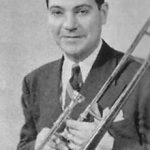 Jack Teagarden (1905-1964) was born in Vernon, Texas and was influenced by his family of musicians.  A fine trombonist and singer of the big band era, he was largely self taught and was considered one of the most innovative trombonist of the swing-era.
Due to a contract with the Paul Whiteman Orchestra from 1933-1938, Teagarden was late in establishing his own big band and never experienced commercial success with that band.  He played with many other bands, to include those of Louis Armstrong, Earl Hines and Eddie Condon.
The younger brother of the more famous singer Bing Crosby, Bob Crosby lead a very popular orchestra during the big band era.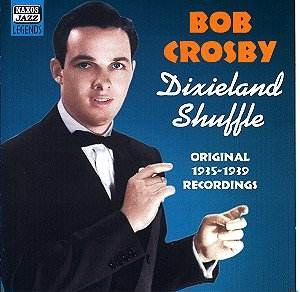 Born in Spokane, WA in 1913, he dropped out of college to pursue a musical career.  A very capable singer with good on stage charisma and wit, he performed as a big band singer from 1932-1935, and then was unexpectedly given the job of "leader" for a cooperative band made up of former members of the Ben Pollack Orchestra.
The Bob Crosby Orchestra developed a versatile stye, consisting of popular songs with Crosby providing the vocals, hard swinging cover tunes of the day (mostly arranged by Bob Haggart and Matty Matlock) and a dixieland style, played by a smaller group made up of members from the larger orchestra, sometimes known as Bob Crosby and the Bobcats.
The band was at it's peak from about 1935-1942, featuring some outstanding soloists such as Billy Butterfield, Jess Stacy, Bob Zurke and Muggsy Spainer.  The band's most famous recording was "South Rampart Street Parade", but also recorded some really swingining versions of King Porter Stomp and Christopher Columbus.  The band was often featured on national radio and appeared in several movies, most notably providing some music for the movie Holiday Inn, which introudced the classic Christmas song "White Christmas".  The band broke up in 1942 and Crosby served in the Marines from 1944-45.
After the war, Crosby stayed involved in music, show business and eventually television, often bringing back versions of the Bobcats for different occasions.  Crosby passed away in 1993.