This web page provides general information on Hepcats and some out-of-town events in a monthly list format.  The out-of-town events listed are ones Mike & Mary have either attended or heard good things about from other Lindy Hoppers & Balboa dancers whose opinions we trust.  Note some Lindy Hop events may also have classes & competitions for Balboa, and perhaps Collegiate Shag, i.e. Camp Hollywood.  This is not an all inclusive list….check out the Swing Planit web site for info on swing dance events all over the world (and even that web site is probably not all inclusive).
Note:   Caveat emptor!  Hyperbole is rampant and commonplace these days, especially in swing dance event promotion on FB, on event web sites, etc.  Words and phrases like "awesome", "amazing", "fantastic", "coolest ever", "legendary", "fabulous", "incredible", "super amazing"…… are so vastly overused those words have almost lost any real meaning.  It's a real challenge separating fact from fiction in swing dance event promotion – – so buyer beware!  You can also check out our "What's the Scoop?" feature.
Info provided only as a service to web users; no other info expressed or implied.  See the event web site and/or contact the event for full details.
(Last updated August 26, 2019)
---
Some upcoming events:
Hepcats classes – 
Hepcats Fall classes start October 27th!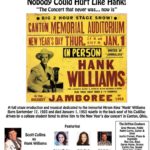 o  Fri., Sep. 6, 8 pm, Renfro Valley, Mt. Vernon, KY -  - and - - Sat., Sep. 14, 7 pm, KY Arts Centre, Lebanon, KY:   
Nobody Could Hurt Like Hank, a show about the life of Hank Williams. Renfro Valley, Mt. Vernon, KY.
A note from Mike & Mary about this event: Hank Williams was a unique talent. Often called the father of country music, Hank Williams was a superstar songwriter, musician and performer by the age of 25, and dead by age 29.
He influenced not only county music but much of the popular music of the 1950's and early 60's. Many of his songs were covered by mainstream artists of his era; artists continue to perform and cover his songs to this day. Williams lived a short, reckless and troubled life, reflected by the lyrics and emotional appeal of his songs.
Come see this fun and informative show about his life. For this production, Mike & Mary will dance on stage for a couple of songs, plus Mike will be the emcee for the show!
o Wednesday, Oct. 2nd, 7-10 pm:  Glenn Miller Orchestra Dance/Benefit at the beautiful Music Hall Ballroom in Cincy, presented by WMKV radio.
o October 11th-13th:  Rhythm is Our Business, Nashville.  A weekend Lindy Hop event.
o October 11th-13th:  Rocktober, Columbus, OH.  A weekend Lindy Hop event.
o Sunday, Oct. 27:  Hepcats Fall 2019 classes start!  See the Hepcats classes web page for all the info.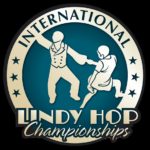 November 29th-December 2nd:  International Lindy Hop Championships, Wash., DC area.  A fun event to attend.
.

December 27th-31st:  Lindy Focus, Asheville, NC.  Annual week long workshop event.  The highlight of the event is five evenings of great big band music featuring the works of Jimmie Lunceford, Artie Shaw, Chick Webb, Benny Goodman, Lionel Hampton, et al..... 'nuff said!