From July 14th – 21st, 2023, Mike and Mary were fortune to make a transatlantic crossing from Southhampton, England to New York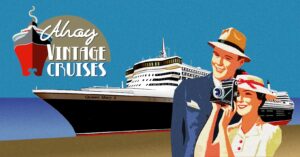 on the Queen Mary 2 (QM2).  The QM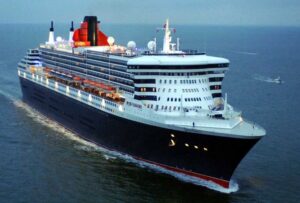 2 is the Cunard Line's flagship, and is one of the few ocean liners in service capable of a transoceanic crossing.
The QM2 holds about 2,600 passengers, and (I believe) the ship was at capacity for ths crossing.  We booked the cruise through Ahoy Vintage Cruises, and were a part of a group of about 60 people that are vintage enthusiasts.  Most of the people in the group wore vintage or vintage-inspired clothing for daytime, and especially evenings.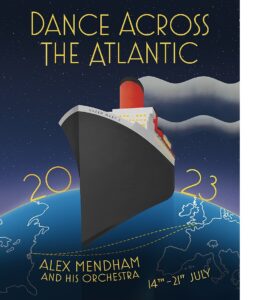 Music for the nightly dances for our group was provided by London,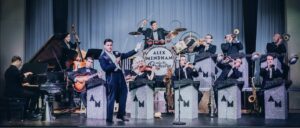 England based Alex Mendham and His Orchestra.  The band played mostly  1920s/30s arrangements, pretty much in the style of a British dance band from that era.  A very good band, with talented musicians and vocalists.
---
---
See below for a few pictures from the cruise (pics not in any type of order).  Hover over the picture for a bit of info…..  More pictures to be added.  We took a lot of pictures – – trying to get through them all and figure out which ones to add! 
---
---
Postscript – added Aug. 24, 2023.  I've been asked how was the music by the Alex Mendham Orch. for Lindy Hop and Balboa.  In general, not very good.  Now to reiterate (as noted above), the Alex Mendham Orch. was excellent, and the vocalists, to include Alex Mendham, were first-rate.  But overall the band played a lot of fox trot and ballroom type music – – not a lot of swingin' arrangements for Lindy Hop and Balboa.  I believe the band certainly had the talent and chops to play 1930s/40s swing era arrangements, but they really didn't on this cruise.  The band had a gig a couple of days after we disembarked at the Swing 46 Club in New York City.  Mary and I had to get back home and couldn't attend, but it would have been interesting to see what arrangements the band played for that gig. 
---
---