This web page provides info on Hepcats and some out-of-town events.  Info provided only as a service to web users; no other info expressed or implied.  See the event web site and/or contact the event for full details.
Of course with the COVID situation, out-of-town dance events – indeed any type event – is subject to change.  So make sure the event is taking place before you depart!   
(Last updated August 8th, 2021)
---
o Hepcats events:  When we feel the time is right, we plan to get back to teaching classes, sponsoring dances, etc…. It may be the Fall of this year, or perhaps upcoming Winter/Spring…..
o Out of town events:  A few out-of-town events are starting to be scheduled for 2021 & 2022.
---
---
o Aug. 27 & 28:  Mike & Mary are appearing in a musical stage production about Hank Williams.
o Dec. 26-31:  Lindy Focus is currently a go for 2021.
o Jun. 16-19:  The All Balboa Weekend is currently a go for 2022.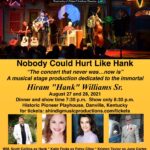 Nobody Could Hurt Like Hank
A musical stage production about the life of Hank Williams.
Friday, August 27th and Saturday, August 28th
Dinner & show, 7:30 pm.  Show only 8:30 pm.
Historic Pioneer Playhouse, Danville, KY
For tickets:  shindigmusicproductions.com/tickets
A note from Mike & Mary about this event: 
Hank Williams was a unique talent, often called the father of country music.  He was a songwriter, musician and performer by the age of 25, and dead by age 29.  He influenced not only county music but much of the popular music of the 1950's and early 60's.  Many of his songs were covered by mainstream artists of his era; artists continue to perform and cover his songs to this day.  Williams lived a short, reckless and troubled life, reflected by the lyrics and emotional appeal of his songs.
Williams died on his way to a January 1st, 1953 New Year's day concert in Canton, OH.  After much painstaking research that concert has been brought to life.  Come see this informative and fun show - Mike & Mary dance on stage for a couple of songs, plus Mike is the emcee for the show!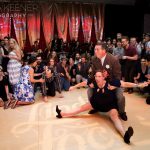 Lindy Focus, Asheville, NC, December 26-31, 2021.

Yes, currently Lindy Focus for 2021 is a go!  For Mike & Mary, the highlight of Lindy Focus is the great big band music by artists such as Jimmie Lunceford, Benny Goodman, Chick Webb, etc.  Check out the Lindy Focus web site for up-to-date info.
Saturday, May 28th, 2022:  USO Swing Dance & Salute to Veterans at Coney Island, Cincy.  Hopefully this event will take place in 2022.  More info to follow as we get closer to the event.
This event is sponsored by the Cincinnati Warbirds, with music by the Tom Daugherty Orchestra, featuring their re-creation of the Glenn Miller Army-Air Force WW II band.  A fun, and patriotic event to attend.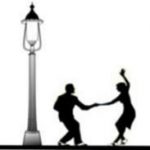 o  Swing' on Short, June 2022.  Lexington's annual street is currently on the schedule.  More info to follow!
---
o  The All Balboa Weekend, June 16th-19th, 2022.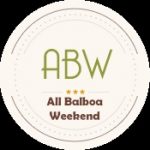 Yes, currently the All Balboa Weekend (ABW) for 2022 is a go!  There really is no debate - when it comes to a combination of high quality instruction, fun social dancing & competitions for Balboa - ABW is the best of the best, it's really that simple.  For Balboa dancers, this is a must attend event!  More info to follow as we get closer to the event.
Monday, July 4th:  Happy birthd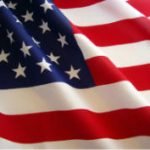 ay USA - the greatest country in the world!
Swing Dance Events - Caveat Emptor!
The events listed on this web page are ones Mike & Mary have attended, or heard good things about from others whose opinions we trust.  Note some Lindy Hop events may also include classes & competitions for Balboa, and perhaps Collegiate Shag, i.e. Camp Hollywood.  This is not an all inclusive list….check out the Swing Planit web site for info on other events in the U.S. and worldwide.
Caveat emptor!   Hyperbole is rampant and commonplace these days, especially in swing dance event promotion on FB, event web sites, etc.  It's a challenge separating fact from fiction – – so buyer beware!  You can also check out our "What's the scoop?" feature (see below).
What's the scoop?  No, not ice cream - but what's the scoop on swing dance events?
Mike & Mary are often asked about swing dance events - - what's the event like, is the event worth attending, etc....  So we're providing info on a few (of the very many!) events we've attended over the years called - - What's the Scoop?  Click on this link to get the scoop!